This is my third attempt at writing a post tonight. My first one was about weight, which turned into a ramble so I gave it up. For my second one I was looking for inspiration from 80s rock (as if that could've ever worked out. I got way too distracted by the music to come up with anything other than 'I have no idea what to write about.'). Now it's just me.
That hair colour is almost accurate for me as of the day before yesterday. I dyed my hair again. I just can't leave it be. Since I was 14 (or 15?), I've been addicted to colouring my hair all kinds of different hues. So now I'm chocolate, which sounds really brown, but is actually quite red. I love it though. Historically I've been known to have hair that's green, blue, purple, red, blue black, blonde, ginger, brunette, etc. One addiction that I'm not sure I'll be able to break. Although purely because I couldn't be arsed I didn't dye my hair for months upon months last year. So maybe there's hope for my hair yet.
As for TV shows, I really can't do anything in a reasonable amount, can I? A few days ago I was starting with season 5 of Pretty Little Liars. Well, today I'm almost half way through season 7. Which also means I'm almost up to date. Which in turn means that there's only so many episodes left until the series ends. This makes me sad. I'll miss them a lot. /sniff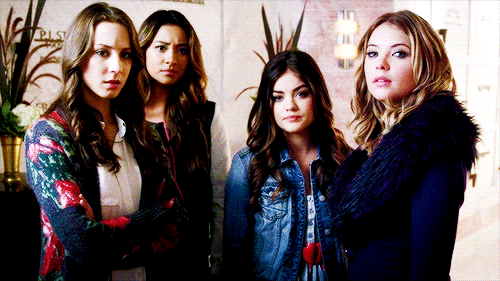 Also, talking about TV series – we finally decided to catch up with Game of Thrones. This meant that last night we watched the first 5 episodes and will finish with the other 5 tonight. I have to say, I'm absolutely amazed that it's been almost a year and I've only had like, one or two minor spoilers about the show. I do love just watching them all in two goes though. No having to wait a week for the next one. I'm not sure why we left GoT so late though. Hmm. Anyway, I'll best go get ready to spend the rest of my night in Westeros.
G.